Basic rule
When you have chosen a photographer on Instagram or other wedding aggregators such as Mywed.com, it is necessary that you go to the website of this photographer and look through several series from different weddings. The more series you will see, the better result you will achieve. Wedding series are very important as you will get a full understanding of the photographer's style. Instagram might contain only the best and the brightest examples of his or her work that only draw your attention, but in this case you won't have a chance to see if there were a lot of such good photos in a series. Number of good shots is one of the most significant criteria of a professional photographer. If he or she doesn't have a website at all, it is a good reason to reconsider working with them: this is probably a temporary job for them and they are not ready to invest into their portfolio at the moment. If their website is in the development or processing, ask them to send you a link for their galleries of photos from the previous season for example.
How to evaluate photo series. Part I
Series must contain not less than 50 photos. For many photographers this number is 100-150, and in the USA — even 200. If there are less than 50 photos in a series this means that the photographer doesn't really have many good shots to show to the clients.

There must be a lot of series from real weddings, not just workshops or love stories. Shooting models who know how to pose using their good postures is not a difficult task, shooting average people within a limited time frame is much harder.

Think about what approximate percentage of the pictures in the series truly amaze you. Imagine that you were asked to choose only a third part of the photos: in a perfect situation you wouldn't be able to do it as you really liked all the pictures. This means that you are dealing with a really talented photographer. It is still good if every fifth photo delights you, but if most of the photos do not evoke any pleasant emotions in you, don't try to compromise, look for another candidate.
Pay attention to another important feature: is the story of the wedding day fully depicted in the series? Isn't any significant moment left out (such as the bride's portrait or the groom's preparation), and do you like how all the details are shown? There also must be different types of pictures: close-ups, portraits, medium shots, wide shots, photos of details and decoration. After a while, it will be a great pleasure for you to remember all the details of your special day, but not all the photographers are able to notice beauty in little details.

Don't forget that photos with guests rarely get published as photographers must get permission from all the guests. That is why you can send a request to a photographer asking to send you the unpublished series from the wedding dinner.

Many photographers neglect shooting dinner as they think that eating people cannot be attractive. We can hardly disagree with such statement but no one will believe that there is nothing important going on at the dinner Actually, this part of the wedding day is a true wealth of beautiful emotions of your parents and friends, so photographing dinner is really necessary. Any professional photographer considers it a topic of great interest.
There must be different types of pictures: close-ups, portraits, medium shots, wide shots, photos of details and decoration.
How to evaluate photo series. Part II
If you like everything, look through the series one more time. Is there anything that confuses you? For example, the photos are too bright or too dark, or Photoshop correction can be seen, or there is unnatural color adjustment, or bad composition. Are there any strange moments that the photographer has decided to publish for some reason? Are the light effects okay, especially while shooting in the evening? Try to look at the series not abstractedly, imagine that these are the photos from your own wedding. We recommend you not to omit this stage and answer to yourself: what do you not like? If you like 80% of the photos of the photographer and still want this person to work at your wedding, it is necessary that you note all the moments that confused you. Also try to understand: are these features a part of his or her special style or the photographer can avoid them?
Ask yourself: are the bride and the groom beautiful in the photos? Can you tell that their photos are good or they could have been shot better? It is very important that the photographer could find the right angles in order to show the best features of people. Everyone is beautiful but no one is perfect, so the photographer must be able to emphasize the best in you so that you liked your depiction in these photos.

When going to «Conditions» and «Prices», pay attention to number of edited photos. If you are planning a big wedding with guests and entertainment program, number of photos just cannot be less than 500. Otherwise your photographer will be just relaxing at your wedding but not working In general this number varies and sometimes may reach 800-1400 selected and edited photos for 10-12 hours of work. By the way, that is why we rarely work with Georgian photographers, as 150 edited shots is normal for many of them.

If everything is fine by you, try to find reviews about the chosen photographer. Only reviews can tell you about one more significant aspect: is the photographer able to meet deadlines?
By the way, that is why we rarely work with Georgian photographers, as 150 edited shots is normal for many of them.
Final steps
As soon as you have found your perfect photographer and made sure that he or she is available for your date, we recommend you to call or meet him or her to get to know each other. A photographer is the person who will spend the entire wedding day near you and will be the witness of all your special moments. After all, the way your wedding will be shown in the photos depends on the way he or she will see you and feel the atmosphere of your personal feast. That is why you have to be on the same page with each other. Also, you will only be able to forget about the existence of camera if working together and communication is comfortable for both of you.
And finally, while drafting the contract do not forget to include penalties for missing deadlines of sending ready materials to you. If you are arranging your wedding through a wedding planner, your contract with the agency will be enough.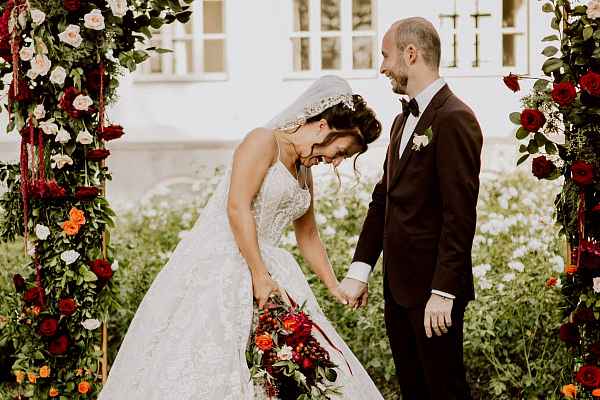 Choosing the number of photographers for your wedding
Having two photographers or one photographer and an assistant is a perfect scenario for any wedding, even a small one. At the ceremony, for example, it is very important not only to make photos of you but also to capture crying and smiling faces of your parents and guests at this moment. These emotions will be a priceless memory for everyone.
It is also more convenient to shoot the bride's and the groom's preparations when there are two professionals: in this case neither of you will have to wait for his or her turn. By the way, a pair of a photographer and an assistant quite often consists of a man and a woman who are known to see the same things differently. Not to mention the fact that the groom feels more comfortable getting ready in the presence of a man and the bride would prefer to spend these moments in front of another woman.
We described a perfect case, but the critical moment when the second photographer is vitally important comes if you are planning a wedding for more than 50 guests. Everybody has probably been to a friends' wedding at least once: after such celebration everyone is always looking forward to getting the pictures of themselves. So if there are more than 50 guests at your wedding, only one photographer just won't be able to take photos of everyone, as he or she should be focused on the couple and their parents. In this case, a second photographer will guarantee that all your guests will be delighted after receiving their photos from your celebration. Everyone will be glad to see that the image of your special day will stay not only in their hearts but also on paper or any digital devices.
What if a friend of mine is a photographer?
This is probably the most sensitive question. First of all, not every photographer is a wedding photographer. One could take great shots of the interior or be a portrait professional, make amazing photos of babies in their first days and not specialize in weddings at the same time. It is a separate genre in photography, photographers get special education, practice for years before they feel capable of taking responsibility to shoot the entire wedding, the event that will never happen again.
Secondly, you shouldn't forget that being a guest and being a photographer at the same time is literally impossible. These roles are mutually exclusive. Photographers must be on their feet all the time, right on the scene, they don't have any opportunity to sit down, have some rest and toast to the couple. If a photographer is also a guest, you'd better be ready to see that some moments of your wedding day will be left out. The most unpleasant thing that might also happen is that your friend will have too much to drink. In this case you will probably get blurry photos or, at worst, you won't get any materials at all.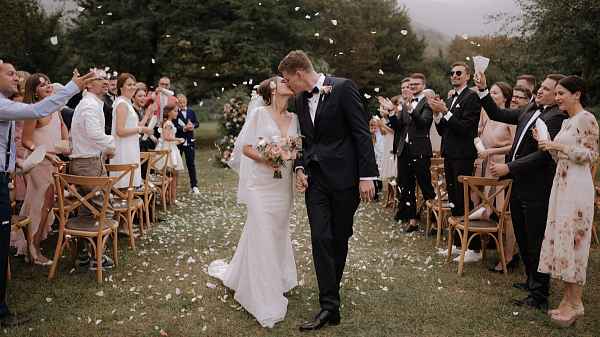 That is why it is very important to distinguish between these two roles. If you have invited a friend to the wedding and he or she wants to make something nice for you and take photos of your special day, do not refuse. Just find a second photographer as the main one. A professional wedding planner will easily explain to your friend why there is also his or her colleague working onsite. After all, your friend will be glad to have a chance to take some rest and enjoy the party.
If you have, however, decided to work with a friend of yours, it is necessary that you pay for his or her job. Everyone knows that employees work during working hours for money, and friends work in their spare time for free. If you use your friend's services for free, then he or she will have less commitment to you in the first place. You are friends after all so there should be no problems in waiting for your photos for 4 months, or even one year... Your friend's clients though cannot wait because he or she will get bad reviews and spoiled reputation. Certainly, it doesn't always happen exactly like this but in the Internet you can find quite a lot of such stories which, at best, resulted into missing deadlines or, at worst, ending of friendship and losing all the photographs.
In case you are planning to work with a wedding agency, most of these steps described above will be made by your wedding planner. You will only need to choose the best from the best ones taking into consideration recommendations of your manager.
If this article was helpful for you, share it with your friends — we will be very thankful!
Yours, Mandarini Wedding Team