Why Kakheti?
First of all, the incredible beauty of nature and picturesque landscapes! Even the most sophisticated guests will be amazed by vineyards, valleys, rivers, lakes, waterfalls, and mountains of the Greater Caucasus that surround Kakheti. Kakheti is the most fertile and generous region of Georgia. It is enough to get there at least once in order to feel this atmosphere of prosperous, relaxed and measured life. Wedding in Georgia is not just an opportunity to celebrate your wedding in a beautiful place but also go on a real vacation and have some quality time with your loved ones. In Kakheti, you will find upscale hotels with good service, well-developed infrastructure and a large selection of venues for the wedding ceremony — even for a large number of guests.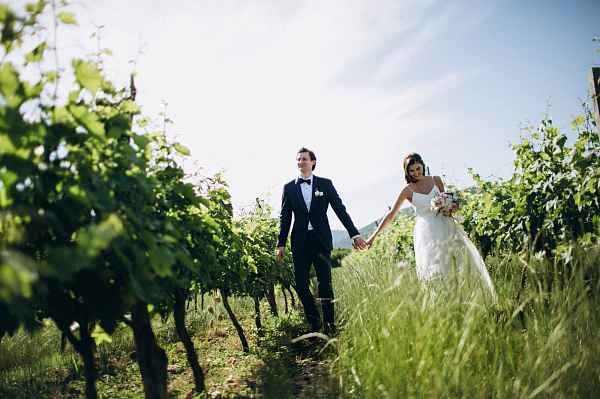 The choice of leisure activities in Kakheti is striking in its diversity. Here you will definitely have something special to entertain your guests with. Visit historical and cultural sights, taste legendary sorts of Georgian wine, go for tracking in the National park, try safaris, or take part in culinary workshops. Later, while talking about each venue in particular, we will tell you about the specific activities available there. The choice is amazing indeed: catamarans, golf, horse riding, flying in a hot-air balloon at dawn and many more. Just share your ideas and dreams with us: in Kakheti, we are able to implement almost anything!
Planning your wedding in fall? This is the most comfortable and nice time for anyone visiting Georgia, as it is when Georgia's most significant agricultural and cultural event takes place, a traditional grape harvest feast Rtveli. In Kakheti, the homeland of Rtveli, this holiday is celebrated with a special pomposity and scale. People usually begin to celebrate Rtveli in mid-September and continue till late October. The feast is always loud and funny. At this time of autumn, tours to vineyards are especially popular. Owners of the wineries let you learn how to cut grape, squeeze it with feet and then prepare juice for the following steps of winemaking. This responsible process will make you feel one of the main characters from "The Taming of the Scoundrel" movie :) Wedding in Kakheti during Rtveli is always a meaningful celebration filled with the energy of prosperity and well-being. Georgian hospitality, wine, fun, and happy people everywhere… All this turns your wedding in Kakheti into a big adventure during which no one will get sad or bored!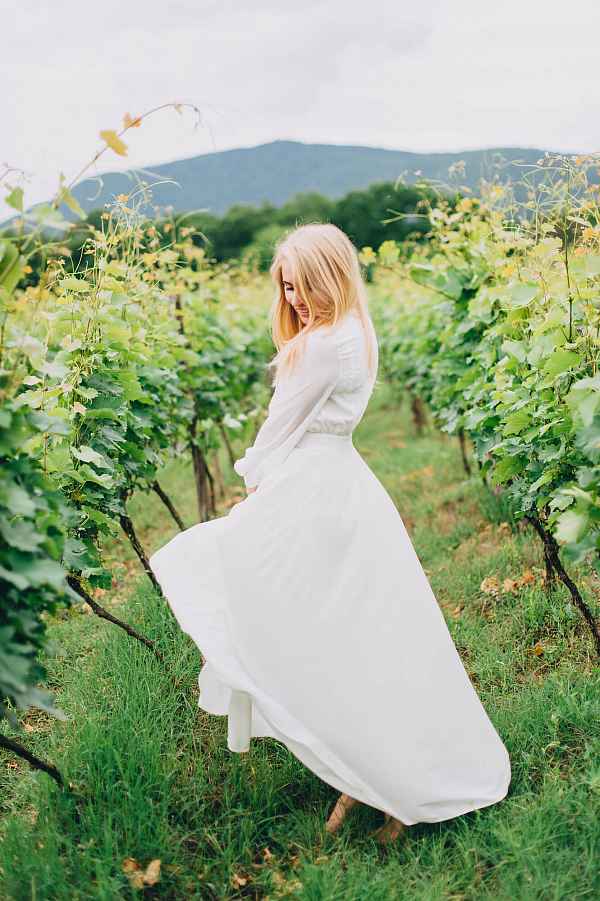 What should you know before planning a wedding in Kakheti?
First of all, we recommend our couples to start looking for a venue for their celebration in advance, as the popularity of Kakheti is growing every year. For example, September and October are the most popular months for tourism in general and event-management in particular, as this time is characterized in moderate weather conditions, a large number of sunny days, and rare rains. Moreover, the most long-awaited Georgian holiday Rtveli is celebrated at this time. That is why it is not an exaggeration to say that you should decide on the main venue for your wedding at least one year before the date of your special day.
If you want to have the ceremony in July and August — the hottest months in Georgia, we suggest you think about an evening celebration, not earlier than 5-6 pm. The second part of July and the beginning of August are considered as the warmest time: during the day, temperatures can rise to 38 °C! However, this period guarantees warm nights with pleasant 26-28 °C: a great time to dance outside all night long without being scared of cool night winds! A reasonable timing will let you avoid any inconvenience connected with hot weather and make your celebration more comfortable.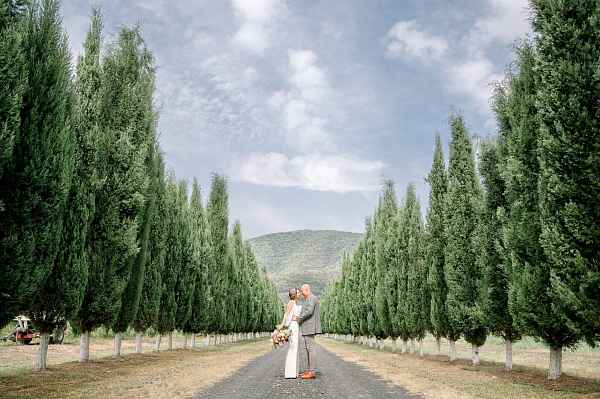 Pay attention to the official noise limitations in Georgia and particular rules of the hotel where you are planning a celebration. Due to the legislation, it is prohibited to make noise after 11 pm, anyway, certain venues offer locations without any noise limits provided that you rent the whole place for your event. We are aware of all existing options on each venue so we will help you choose the most affordable and convenient place.
And finally, if you have chosen a wine chateau, make sure that you actually like the wine produced by this particular winery. Wine chateaus typically do not offer an additional opportunity to order another type and brand of wine aside from the one made on the venue.
All these and some other factors have big importance when choosing the venue. Awareness and calm in preparation will make your wedding day a truly unforgettable event. And we will be happy to help you with this!
Where to hold a celebration?
Radisson Collection Tsinandali Hotel
Radisson Collection Tsinandali Hotel is one of the best sites in Georgia for people who appreciate luxury and impeccable aesthetics. It is a new unique project that integrated the historical part of the Chavchavadze family's estate, modern architectural elements, and highest standards of comfort and service. Let yourself enjoy a tranquil walk around the park, take a tour around Alexander Chavchavadze's house, flip thought one of the books in the extensive hotel library.
Radisson Tsinandali design was made by an international team of professional designers: all historical parts are successfully integrated into modern design. The real pearls of the interior, decorated in Georgian architectural style, are the fabulous chandeliers by the world-famous light designer Ingo Maurer. They are a real masterpiece: one can observe and admire them endlessly!
The project includes various stunning objects for holding big events. You can hold a wedding dinner, for example, in the amphitheater, ballroom, open terraces or the hotel halls, located in the ancient wine cellars. There is an outdoor swimming pool with a panoramic view of the Greater Caucasus mountains. It is heated all year round which makes it suitable for relaxing after a long party. A lot of menu options based on your preferences, spacious lobby with different stylish zones for having a welcome cocktail, and an exquisite wine list guarantee the success of your wedding celebration. Hotel's motto is "Feel exceptional" — this is probably the best description of anyone's experience in Radisson Tsinandali. Choosing this venue, you may be sure: it will bring you and your guests excellent and unsurpassed impressions.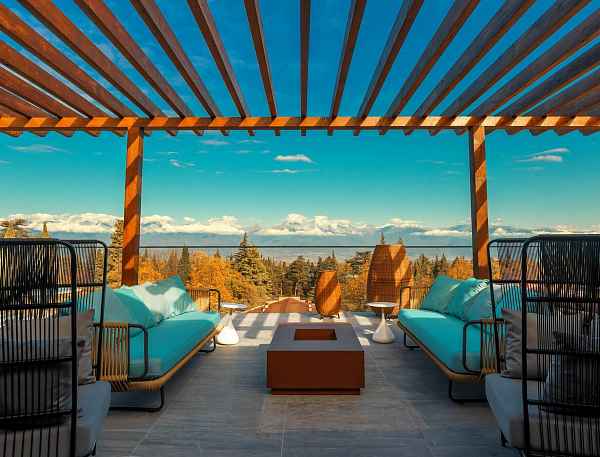 Kvareli Lake Resort
Kvareli Lake Resort is one of the most beautiful locations in Kakheti. A beautiful Kvareli lake, surrounded by blue mountains, high sky reflecting in its surface, a romantic wooden pier… Sounds familiar? There is a big chance that you have already seen pictures of this place on the Internet. This incredible view is one of the main reasons why couples from all over the world choose this hotel for their ceremony so often. From year to year, the popularity of this place is growing so if you are dreaming of wedding photos in front of this stunning landscape, make sure to make a reservation in advance.
Another distinctive feature of this place is the peace, harmony and calm that reigns on the territory of the hotel. Kvareli Lake Resort is a private area, thus there are no strangers and uninvited guests there.
Thanks to the great hotel's location, each room has an incredible view: some — of the blue lake, others — of the Alazani valley, endlessly stretching till the horizon.
Note that weekday and weekend room rates are different. If necessary, this will allow you to adjust and reduce costs. Bike rent, spa, and sauna are included in the price of accommodation. Guests have a great opportunity to enjoy the outdoor pool, fitness center, restaurant, and bar.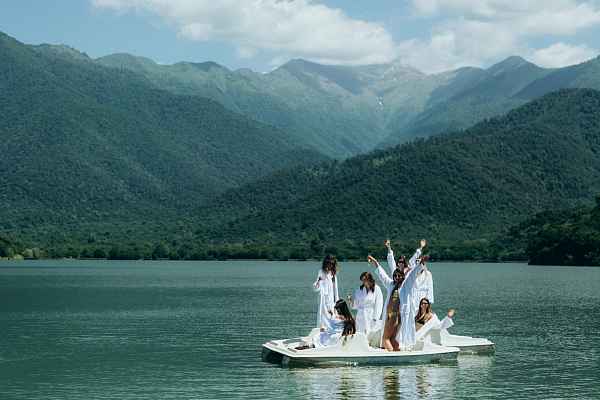 Not far from Kvareli Lake Resort, there is a variety of wineries: from the famous Kindzamarauli factory and biggest wine company Khareba with its long cellar halls to cozy modern wineries and small family farms. This allows you to diversify the leisure of your guests: they can go there for a short trip to learn more about Georgian winemaking culture, or practice cooking some traditional Georgian dishes.
Reservation conditions: for having an event you need to book the older block with 20 rooms or the newer one with 39 rooms.
Try other venue options in the following situations:
– If you are scrupulous about the newness of the venue. Kvareli Lake Resort is one of the first hotels in Kakheti, renovation of the older block is planned for the next year, and the big new one might be excessive for you. The fact which is full of charm for some, for others can be a significant minus.
– If you are planning your wedding in autumn/winter. The water level in the lake drops in cold seasons (from December till late April): your wedding photos and videos will not look as stunning as in summer.
– If you dream of a loud party till dawn. With partial rent, it is necessary to reduce the sound and continue the holiday indoors after 11:30 pm. It is also important to note that the hotel's restaurant works till 1 am, after that you can extend the working hours for an extra payment. When the hotel is fully rented, the territory remains at the disposal for the whole time and working hours of the restaurant is a subject of discussion.
Chateau Mere
Chateau Mere is a hotel that is located close to Tbilisi. This makes it a suitable place for those who do not want to travel far from the capital but dream to feel real Georgian hospitality.
The owner of the hotel loves this place so much, that so he lives on the territory, welcomes guests and creates all the conditions for you to feel like home. His family carefully keeps all the souvenirs and memorable little things from their guests, creates a cozy atmosphere and looks after the garden around the hotel. Each detail here reflects the owner's care.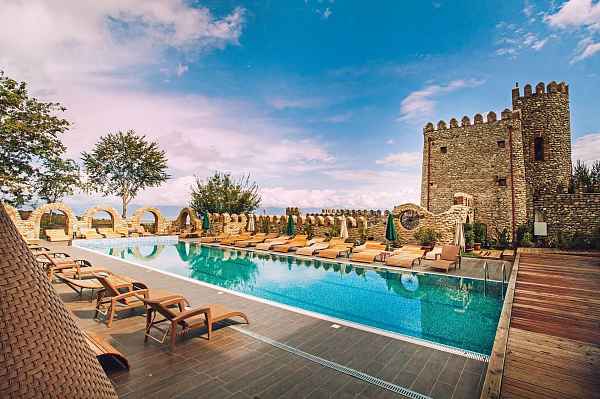 Exploring the restaurant also will be an unforgettable experience for you. Quality of traditional Georgian dishes is so high there that many Tbilisi residents travel to Chateau Mere to spend their weekend lunch or dinner at this magnificent place. An Italian chef Enzo Neri is the owner's friend: he will be glad to create some Italian and Mediterranean dishes for your gala-dinner.
Please note that the hotel grounds are more suitable for small weddings. You can party until 00:00 if you book 2 buildings out of 3. There are no restrictions on a full buyout.
Are you in love already?
Because we are! In the next part of the guide, we will learn even more and get acquainted with other sites of Kakheti! Stay in touch.
With love, yours Mandarini Wedding
P.S. More information about locations in Kakheti you may find on our YouTube-channel.
Book a call with us
Book a 30 minute free consultation with one of our wedding planners.
During the call, we will give answers to your questions about a wedding in Georgia and outline the steps necessary to start preparing for your wedding!
The agency service fee is 15% of the wedding budget and no less than $3000. In case you expect the service cost to be lower please contact our partner wedding agency - Ori.
Book your call

will take ~30 seconds

book for a convenient date and time