Kvareli Eden
Kvareli Eden will become a heaven for solitude lovers. Due to its harmonious interior and exterior, various locations for dinner and ceremony and all the opportunities to have a decent rest, Kvareli Eden is considered to be one of our couples' favorite wedding venues. It is surrounded by mountains, forests, and vineyards extending to the horizon.
Wedding in Kvareli Eden is a chance to express all your dreams and ideas, as the hotel's territory offers various beautiful and convenient locales for any wedding activities. The ceremony can be held in a clearing in front of the hotel, in the vineyards, or right in front of the hotel using its elegant architectural elements, arches, and columns. Depending on the number of your guests, dinner can be placed on one of the outdoor locales, in a Georgian restaurant hall, or in a European hall.
Not far from the hotel, there are plenty of big and small wine factories and wineries, which are perfect for a welcome dinner, for example. Your guests can also visit any of these vineyards for a Georgian wine tasting at the beginning of your wedding day.
Kvareli Eden is suitable for those couples who are planning a wedding for less than 100 people.
Also, please pay attention to the updated reservation terms which come into effect in 2020. You can have a wedding on Saturday only provided that you book the entire hotel for your date. By the way, there will be no noise limitations for you in that case. However, if your celebration is scheduled for another day (including Friday and Sunday), no matter how many rooms you book, unfortunately, you will not be able to party after 11 pm. After it, you will need to turn the music down or continue celebrating inside, in the Georgian hall, which provides good soundproofing.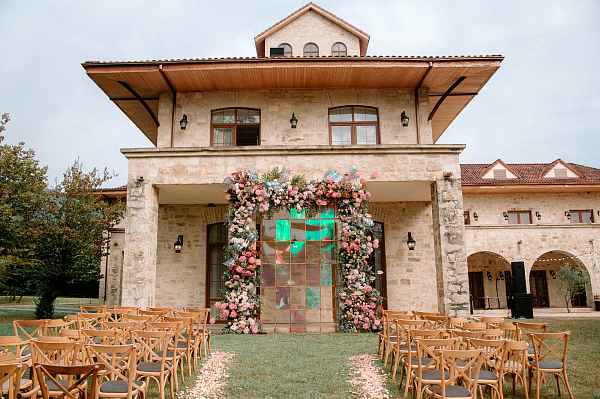 Lopota Lake Resort
Lopota Lake Resort — a place that spreads the atmosphere of comfort and tranquility. A distinctive feature of the hotel is an incredible view of the lake, which maintains the same water level all year round (which is not typical for all locations in Kakheti). It has a spacious pier which is perfect for a ceremony under the bright southern sky. The spacious pier offers enough room for up to 150 guests, it can fit a buffet and large-scale decorations for the ceremony zone.
This location is perfect for large groups and party lovers. Here you will find a lot of options for having your dinner inside or outside, depending on the number of guests and the format of your event. The impressive diversity of all possible activities in Lopota Resort stands out among other hotels in Kakheti: horse riding, quadricycles and catamarans, karaoke, pools, bars, and even a club. If you are worried about what your guests are going to do in the free time, have a closer look at Lopota Resort: no one will get bored here!
The hotel can fit up to 400 people, it has 14 buildings, so you can reserve a couple of them and have this territory just for yourselves.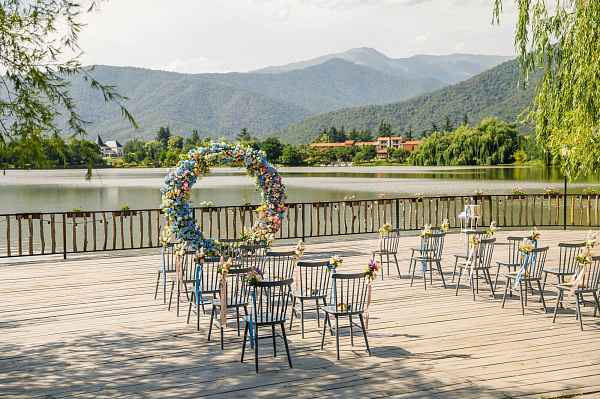 What is more, there is a remarkable Chateau Buera. It is a gourmet restaurant with a modern elegant interior, inside and outside venues, and a wonderful view of the vineyards and surrounding mountains on the horizon. This place is perfect for a stylish gala-dinner, cozy welcome dinner, or a welcome cocktail.
Visit the wine hall "Kakhetian corner" to learn more about the entire process of winemaking: starting from the grape and till the clay qvevris hidden underground.
Try other venue options if you dream of a cozy family wedding. It is worth paying attention to the fact that due to a large number of rooms, it is quite difficult to fully reserve the entire hotel. Thus, the presence of other people in the immediate vicinity is rather possible. For a more intimate celebration, check other locations.
Royal Batoni
Royal Batoni is a castle near the black channel of the river. A lot of people suppose that Royal Batoni is a real castle. In fact, this is the result of painstaking styling. A cozy interior, dizzying climbs up the spiral staircases, and an incredible atmosphere are the main benefits usually noted by the hotel's guests.
There is Ilya lake just 10 minutes walk away from the venue. It will be an excellent location for your outdoor wedding photoshoot or a stylish ceremony. The ceremony can be also held on a special hotel terrace overlooking the mountains and incredible pink sunsets. Dinner usually takes place on the terrace covered from rain (which is a great advantage in comparison with some hotels in Georgia), or in an indoor restaurant with a cozy fireplace. A huge advantage of the place is the cuisine. Everyone who has ever stayed at Royal Batoni notes this. And after a long party, enjoy your sunny day in the outdoor pool.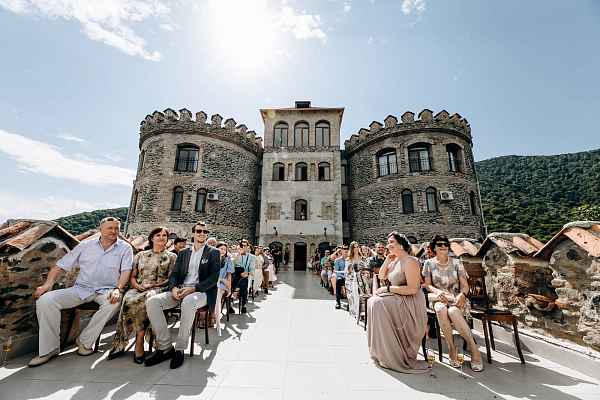 Kabadoni Boutique Hotel
Kabadoni Boutique Hotel is a modern boutique hotel situated in the heart of magical Signaghi which is also known as the legendary town of love. Just imagine the endless Alazani Valley with the snow-covered caps of the mountains of the Greater Caucasus on the horizon. The hotel terrace overlooking the valley and an ancient historical center of the town will become an amazing background for your beautiful wedding photos.
The boutique hotel is designed in a minimalist Scandinavian style with harmoniously implemented Georgian elements. In the hotel restaurant, you can taste dishes of European and Georgian cuisine, and for a lovely evening outdoors, there is a cozy lounge bar Sunset. Everything in Kabadoni is created with love and care. Room furniture is made of natural materials of perfect quality, and the rooms themselves are modern and convenient so you and your guests will be delighted to spend your time in Kabadoni. There is an indoor swimming pool with a gorgeous view of the valley and a spa center. The ceremony can be held on one of the spacious hotel terraces, and the dinner — in a restaurant with panoramic windows of the Alazani valley and the picturesque town.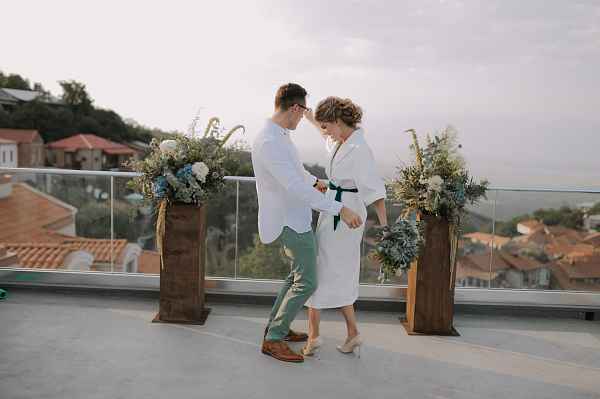 Schuchmann Wines Chateau & Spa
Schuchmann Wines Chateau & Spa is a German chateau in the heart of Kakheti. The minimalistic design and laconic interior give you a lot of chances to express yourself in decoration. Our couples value the Schuchmann Wines Chateau & Spa for its stunning views, rooms with views of the Alazani Valley and a good value for money. This year, there have been opened 10 additional villas suitable for 40 guests, which makes Schuchmann convenient for rather big weddings.
There are a swimming pool, fitness center and spa, billard, and mini-golf on the territory of the venue. The price for the two nights' accommodation includes the tasting of wine produced at their own winery. Schuchmann is one of the oldest and most famous wineries in Georgia. In addition to the regular types of wine, here you will have an opportunity to try some unique sorts of white wine: Kisi, Rkatsiteli and Mtsvane.
Try other venue options if you dream of a loud party till dawn. Schuchmann Wines Chateau & Spa is a little less suitable for such parties because it is located in the village. This imposes certain restrictions on the noise level in the street.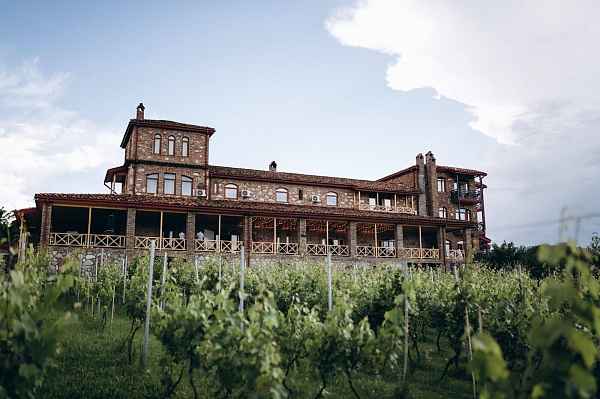 Let's sum it up?
Kakheti is a real treasury of locations with incomparable landscapes and a various opportunities for planning your wedding. Whether it is a ceremony on the terrace of a Medieval castle, or a dinner overlooking vast vineyards and tops of the Greater Caucasus mountains in the distance — your wedding in Kakheti will definitely become your warmest memory. Southern sun and our thoughtful care are the guarantee of it.
With love, yours Mandarini team
P.S. More information about locations in Kakheti you may find on our YouTube-channel.
Book a call with us
Book a 30 minute free consultation with one of our wedding planners.
During the call, we will give answers to your questions about a wedding in Georgia and outline the steps necessary to start preparing for your wedding!
The agency service fee is 15% of the wedding budget and no less than $3000. In case you expect the service cost to be lower please contact our partner wedding agency - Ori.
Book your call

will take ~30 seconds

book for a convenient date and time